Staff Leadership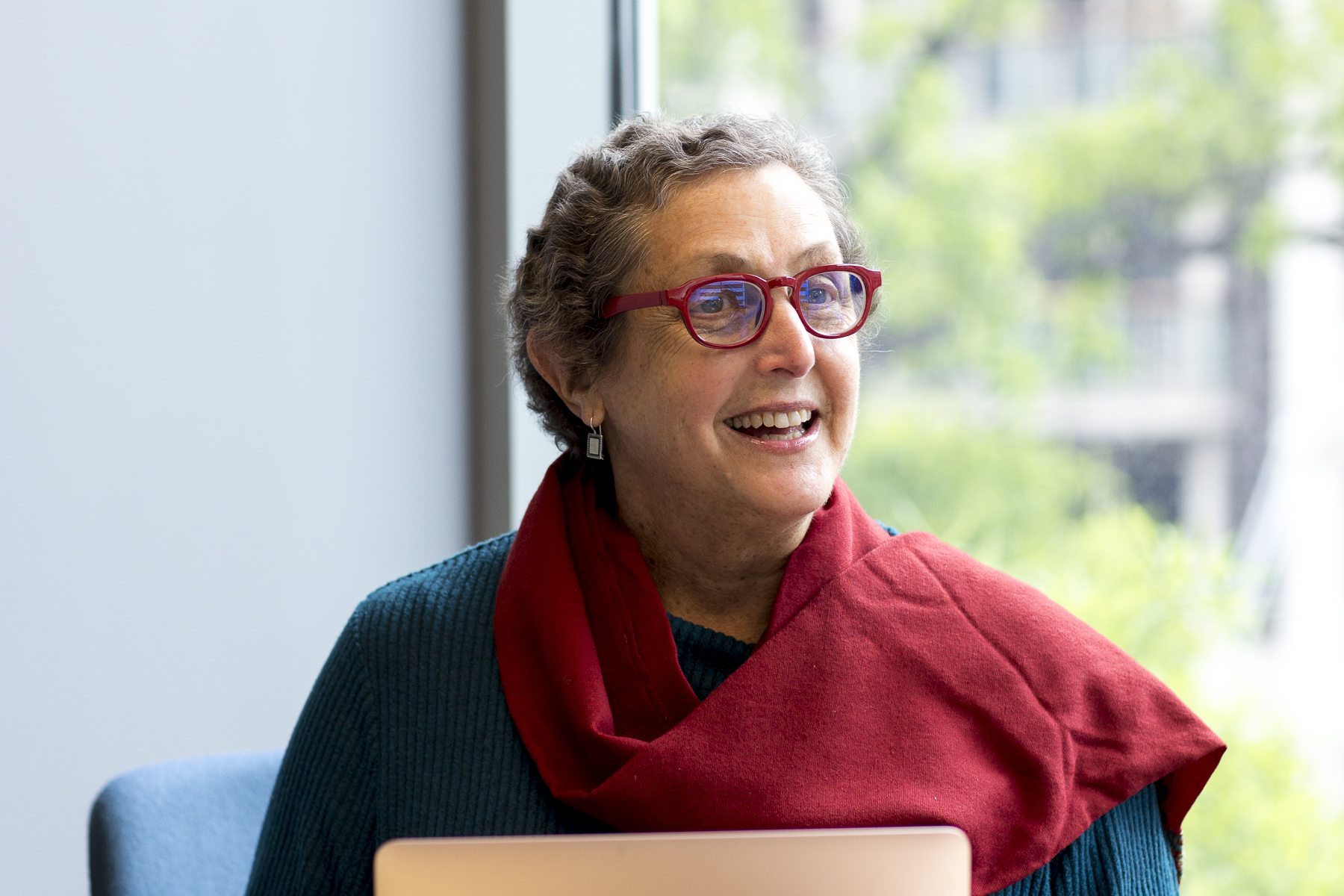 Sharon Waxman, President and CEO
Sharon Waxman is FLA's president and chief executive officer, coming to the organization after serving as vice president for public policy at the International Rescue Committee and an extensive history of public service.
Before joining FLA in December 2015, Waxman had a distinguished career in the US Senate, working as associate staff for a member of on the Senate Appropriations Committee, and also as a senior national security advisor to the late Senator Edward Kennedy (D-MA). After leaving the Senate, Waxman served as the Deputy to the Undersecretary of State for Civilian Security, Democracy and Human Rights. There, she advanced US policy on international labor, human trafficking, refugee rights, and other human security issues and oversaw helped oversee five bureaus, including the Bureau of Democracy, Human Rights and Labor, and the Office to Combat Trafficking in Persons.
She is a current member of the Council on Foreign Relations and a previous board member of the US Global Leadership Coalition. Waxman also serves on Nespresso's Sustainability Advisory Board.
Waxman has a master's degree in international public policy from the School of Advanced International Studies at the Johns Hopkins University, and a bachelor's degree from the University of California, Berkeley, where she concentrated on international development and Near and Middle Eastern studies.
Eric Biel, Senior Advisor
Eric Biel is Senior Advisor at FLA, having served in that position since January 2018.
Biel's career has long been focused on the intersection of trade, labor, and human rights issues, including as Associate Deputy Undersecretary in the US Department of Labor's Bureau of International Labor Affairs (2012–2017) and earlier as Deputy Undersecretary for Trade Policy at the US Department of Commerce and International Trade Counsel at the Senate Finance Committee. Outside of government, he was Deputy Washington Director of Human Rights First and held senior corporate responsibility positions with a global consulting firm and Washington, DC-based law firm.
Biel also was executive director of the bipartisan Commission on Protecting and Reducing Government Secrecy. Since 2009 he has taught a course on Business and Human Rights at Georgetown University Law Center. Biel has a joint law degree and master's in policy from Yale Law School and the Princeton School of Public and International Affairs, and a bachelor's degree in history from the Johns Hopkins University. He is a diehard fan of Cleveland sports teams, and after taking the DC Bar examination traveled for over two months to see baseball games in every major league stadium.
Mari-lou Dupont, Senior Director, Social Compliance
Mari-lou Dupont is FLA's Senior Director, Social Compliance. She previously joined FLA as Director, Social Compliance-Accreditation and brings over 15 years of experience advocating for human rights and decent working conditions globally.
Dupont started her career as an anthropologist and lawyer working alongside First Nations in her native Canada. Based in Paris from 2013-2017, Dupont acted as a legal expert on investment policies, responsible business conduct and grievance mechanisms at the Organization for Economic Co-operation and Development. While in France, she also advised the private sector on upcoming due diligence legislation as a consultant. From 2018-2022, she oversaw the promotion and implementation of the Labour Principles of the United Nations Global Compact. In that role, she managed a portfolio of labor and decent work-related projects, including the Decent Work in Global Supply Chains Action Platform — a group of multinational enterprises and partners committed to take collective action and develop tools to improve working conditions and human rights in their supply chains.
Dupont holds degrees in anthropology and law from the University of Montreal, and successfully completed the bar examinations of Quebec and Paris. She is fluent in English and French.

Shelly Heald Han, Chief of Staff and Director of Engagement
Shelly Heald Han is FLA's chief of staff and director of engagement. In this role she works to ensure the organization can efficiently meet its mission by overseeing special projects and strategic communications, and implementing the strategic plan. Han also manages FLA's Civil Society Caucus, facilitates outreach to labor groups and other stakeholders, and coordinates the organization's public affairs activities that promote labor rights around the globe. Han's career has centered on human rights advocacy and corporate social responsibility.
Before joining the FLA in 2016, Han was a senior policy advisor to members of Congress at the Commission on Security and Cooperation in Europe. There, she wrote legislation, organized congressional hearings, and launched human rights advocacy campaigns focused on combatting corruption, supporting human rights defenders and journalists, and advancing online freedom. From 2000–06, Han held policy positions on trade, national security and immigration at the Departments of Commerce and Homeland Security. Prior to joining the government, she worked in the private sector helping companies ethically do business in international markets.
Han has a master's degree in international commerce and policy from George Mason University and a double-major undergraduate degree in political science and East Asian Studies is from the University of Arizona. She is fluent in Mandarin Chinese, and in her spare time is a professional photographer.
Stacy Hope, Senior Director of Communications
Stacy Hope is FLA's senior director of communications, bringing to the role more than two decades developing and implementing integrated communications programs that successfully articulate complex global issues and build support for action among the media, policymakers, academia, civil society, and the general public.
Prior to joining FLA, Hope directed all communications activities and served as the primary spokesperson for a bipartisan, bicameral US government commission promoting human rights and democracy across North America, Europe, and Central Asia.
From 2008–2014, Hope counseled European Union officials on multifaceted programs effectively connecting American audiences with crucial European political issues. Her experience also includes leading national and international communications programs for the British Council, the United Kingdom's cultural relations organization; managing public relations programs at a major U.S. trade association; and serving as the external relations officer for the Department of State's Fulbright Student Program at the Institute of International Education.
Hope launched her career at Golin, an international public and media relations firm. She holds a bachelor's in international relations and journalism from the University of Southern California, a master's of science in international relations from the London School of Economics, and a professional diploma from the UK's Chartered Institute of Marketing. She is a published author, a Fellow of the Truman National Security Project, and has held numerous volunteer leadership positions.
Richa Mittal, Senior Director, Agriculture and Supply Chain Innovation
Richa Mittal is Senior Director of Agriculture and Supply Chain Innovation at FLA.
An expert in labor standards due diligence and problem resolution in complex upstream supply chains, Mittal has led projects on traceability, child and forced labor, responsible recruitment, and gender and youth in manufacturing and agricultural supply chains in Africa, Asia, Europe, Latin America, and the Middle East since joining the organization in 2003.
She is the architect behind critical FLA initiatives, including the FLA Agriculture Program, the Supply Chain Traceability Program, and the Fair Labor Agriculture Alliance — a platform focused on collective remediation in the agriculture sector.
Before joining FLA, Mittal conducted research and managed a health program for garment workers in Bangladesh, run jointly by the University of Michigan and Michigan International Development.
Mittal has a master's degree in public health from the University of Michigan, and in human ecology from the University of Delhi in India.
Sif Thorgeirsson, Senior Director, Investigations and Engagement
Sif Thorgeirsson is Senior Director of Investigations and Engagement at FLA. She joined FLA in December 2018, and now leads the work of the Fair Labor Investigations team and oversees the University Program.
Thorgeirsson is an experienced business and human rights professional as well as a US-trained lawyer. Before joining FLA, she was an independent business and human rights consultant working on projects across areas including company human rights policies and international trade and human rights. Prior to that, Thorgeirsson spent a decade at the Business & Human Rights Resource Center where she launched and managed the Corporate Legal Accountability program — the Resource Centre's hub focused on access to remedy and the legal responsibility of businesses for human rights abuses. Before joining the Resource Centre, she was a Researcher at Yale Law School on international human rights issues (including business and human rights). Thorgeirsson started her career as an associate at a large Washington, DC law firm where she worked five years focusing on project development and finance in the energy sector, international law, and corporate law.
Thorgeirsson received her law degree from George Washington University Law School, and attended the Oxford University Summer Programme in International Human Rights Law. She holds a bachelor's degree in history and political science from Canada's McGill University. Fluent in English and Icelandic, Thorgeirsson is also proficient in Spanish and French, and lives in Washington, DC.
FLA has a diverse professional team located around the world.