Children's Lives at Stake: Working Together to End Child Labor in Agra Footwear Production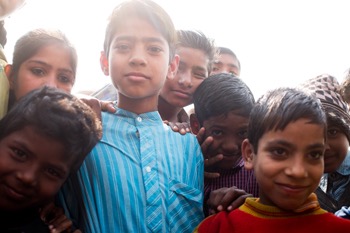 Research conducted by FLA and iMentor between October 2014 and December 2016 demonstrates a high prevalence of child labor in Agra, India, a city where the production of shoes is the most important economic sector after tourism.
Research commissioned by the Stop Child Labour Coalition (SCL), and supported by international footwear brands sourcing from Agra, found that low wages for adults and not enough schools for children were the two primary root causes of the widespread incidence of child labor in Agra.
The project team found that while export-focused factories in Agra have taken steps to prevent child labor among their regular workforce, informal piece-rate work and the use of subcontracting present clear child labor risks.
With the goal of reducing the incidence of child labor in Agra based on the project findings, the team recommended the establishment of a pilot collaboration between the government, brands, suppliers, civil society, and members of the community, to create a "child labor free zone" in one or more communities in Agra.
By creating a "zone" free of child labor, stakeholders focus not on a specific industry sector, but on eliminating all forms of child labor from a specific geographic area, whether children are working to produce footwear, in the tourism industry, or in some other sector.
For international brands sourcing from Agra, the report notes that strict policies against subcontracting may not be sufficient to ensure that work is not being outsourced to small workshops or home-based manufacturing units where children are working. For brands, the report recommends:
Directly and regularly collaborate with suppliers to build trust and obtain accurate information about subcontracting and child-labor issues in upstream supply chains;
Conduct regular monitoring visits, focusing closely on issues facing young workers, and indicators of unauthorized subcontracting;
Avoid purchasing practices that exert economic pressure on suppliers, contractors, or subcontractors that may encourage child labor.
No FLA affiliates report sourcing export-oriented products from the Agra area, and researchers found no evidence that any factory, workshop, or home-based unit they visited in Agra was producing for any FLA affiliate at the time of the project.