adidas Assessment for Reaccreditation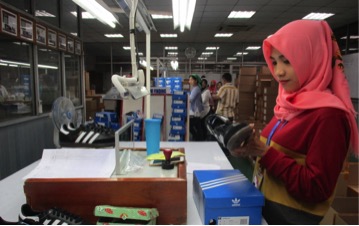 The FLA Board of Directors voted on October 4, 2017, to approve the reaccreditation of adidas' labor compliance program.
The adidas reaccreditation covers the period from 2009 to 2017. In 2017, adidas included 475 applicable facilities in 42 countries in the FLA program. While the FLA does not require subcontractors to be disclosed, adidas has included its subcontractors within their scope of FLA affiliation for SCI assessments. The top sourcing coutries for adidas are China (112 facilities), Vietnam (59 facilities), and Indonesia (44 facilities). From 2009 to 2017, adidas received 41 factory-level assessments, and received four SCI verifications, to assess for factory-level improvements, in 2017. The FLA also conducted one headquarter assessment and one field observation of adidas' monitoring program as part of the reaccreditation.
The full reaccreditation report below includes commendation for adidas' strengths, including its advanced mobile SMS technology for workers to submit grievances, collaboration with other brands to address labor violations in shared suppliers, and supply chain mapping beyond the first tier in an effort to address labor violations throughout the adidas supply chain.