FLA Board and members conclude October meeting, bid farewell to CEO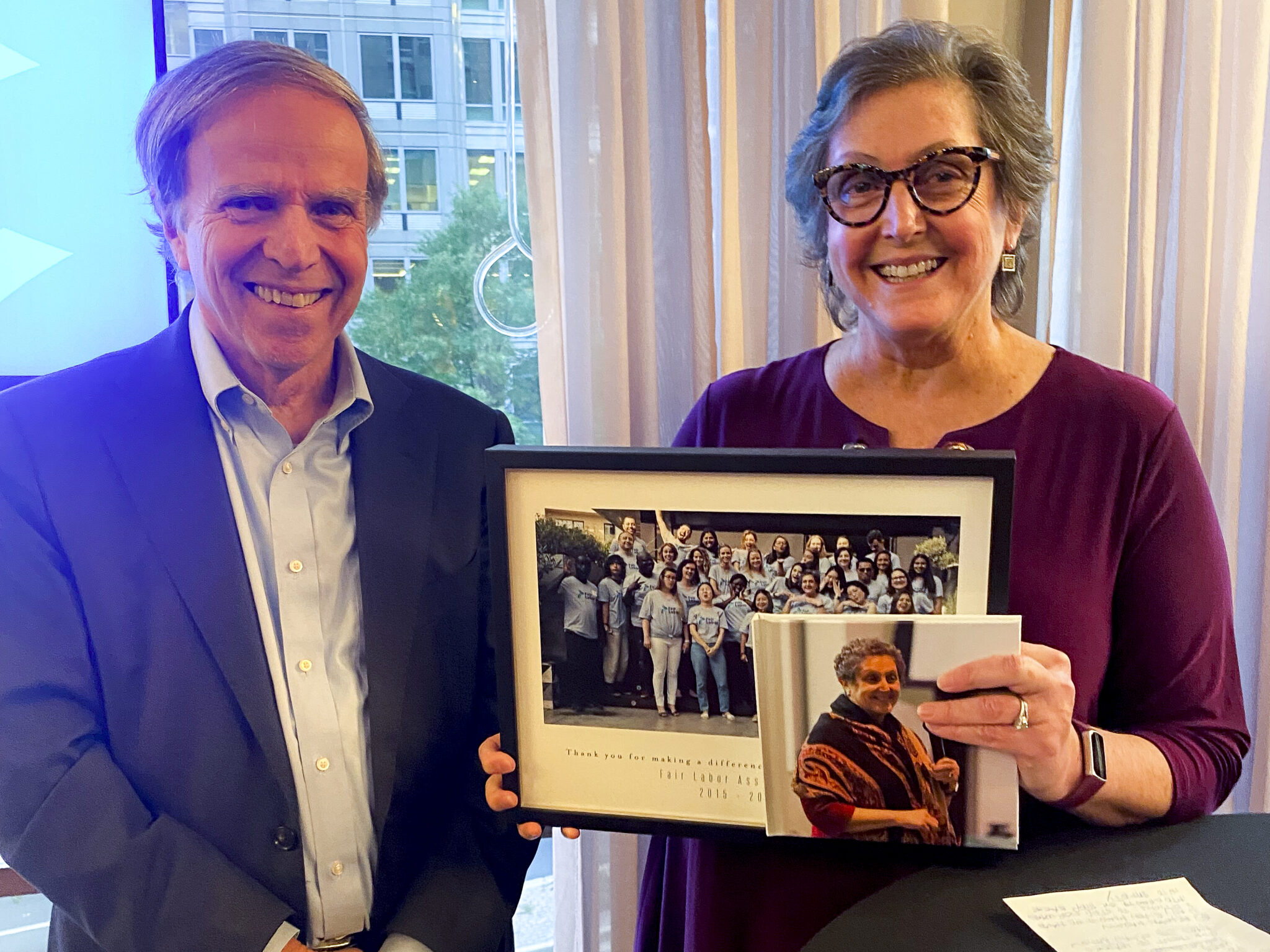 From October 16-18, 2023, Fair Labor Association (FLA) board members and more than 100 representatives of participating companies, civil society, and universities gathered in the Washington, DC area for an in-person meeting and special farewell to President and Chief Executive Officer Sharon Waxman.
During the three-day meeting, participants attended a discussion around business closures and responsible exits and a panel with trade union leaders on the importance of binding agreements on labor standards. FLA staff shared updates on key labor trends in Central America and Asia, as well as our work (including independent external assessments, milestone evaluations for companies on track for Fair Labor Accreditation, new staff introductions, and insights from recent Fair Labor Investigations).
Quoting painter Vincent van Gogh's words, "Great things are done by a series of small things brought together," Sharon Waxman gave her final address to the Board and highlighted ten achievements that have made a significant difference in FLA's positive trajectory. Among them, she noted the:
Adoption of FLA's core values shortly after her start at FLA in 2017;
Growth of the Communications department, supporting the organization's expanded public profile, and strategic logo redesign to represent each of FLA's three caucuses;
Development of a "sensible, smart, and seamless" Fair Labor Accreditation process for both agriculture and manufacturing; and
Increase in number and geographic diversity of full-time staff as well as independent assessors.
The FLA board of directors voted to approve the 2024 annual budget; to adopt the definition of 'living wage' in FLA's Compliance Benchmarks Glossary to reflect the Global Living Wage Coalition's terminology; and to accredit two independent assessors for agriculture in Türkiye​.
The following members were approved by the full board to serve on FLA Board Committees:
Agriculture Committee
Karen Daubert, Washington University in St. Louis (University Caucus);
Janhavi Naidu, ofi (Business Caucus); and
Yann Wyss, Nestlé (Business Caucus).
Communications Committee
Tomi Gerhold, University of Notre Dame (University Caucus).
Executive Committee
Rachel Duffy, Syracuse University (University Caucus).
Manufacturing Committee
Nancy Donaldson, Global Fairness Initiative (CSO Caucus);
Pinar Ozcan, Öz İplik İş Sendikası (CSO Caucus); and
Mustafa Ozfal Percin, TEKSIF as an alternate (CSO Caucus).